If you would like to understand how to transfer money from Google Adsense to Bank Account then you have certainly come to the right blog post.
Nowadays, content creators, website owners, and bloggers have found innovative ways to turn their passions into profitable ventures.
One of the most popular avenues for monetization is Google AdSense, a platform that empowers individuals to earn revenue by displaying advertisements on their websites and content.
As your efforts bear fruit and your AdSense earnings grow, the next step in maximizing the benefits of your hard work is transferring those earnings to your bank account.
In this blog post, you will get to understand how to transfer money from Google Adsense to Bank Account.
In the sections that follow, we'll navigate through the complexities of setting up your payment information, choosing the right payment method, and so on.
By the end of this blog post, you'll have a clear understanding of how to transfer money from Google Adsense to Bank Account.
Setting Up Your Payment Information
Before you understand how to transfer money from Google Adsense to Bank Account, it's essential to ensure your payment information is correctly set up. Follow these steps to get started:
Log into Your AdSense Account
Access your Google AdSense account using your credentials. If you don't have an account, you can create one by following Google's registration process.

Navigate to the Payments Section
Once logged in, click on the "Payments" tab, usually located in the left-hand menu or the main dashboard. This is where you'll manage your payment settings.

Enter Your Payment Details
In the "Payments" section, you'll find options to input your payment details. This includes your bank account information, payee name, and address. Make sure to provide accurate and up-to-date information to avoid any payment issues.
Verification Process
Google AdSense may require you to verify your payment information. This could involve a small test deposit sent to your bank account, which you'll need to confirm within your AdSense account. This step ensures the accuracy of your details and helps prevent payment errors.
Choosing a Payment Method
Google AdSense offers several payment methods to choose from. Each method has its pros and cons, so select the one that best suits your needs: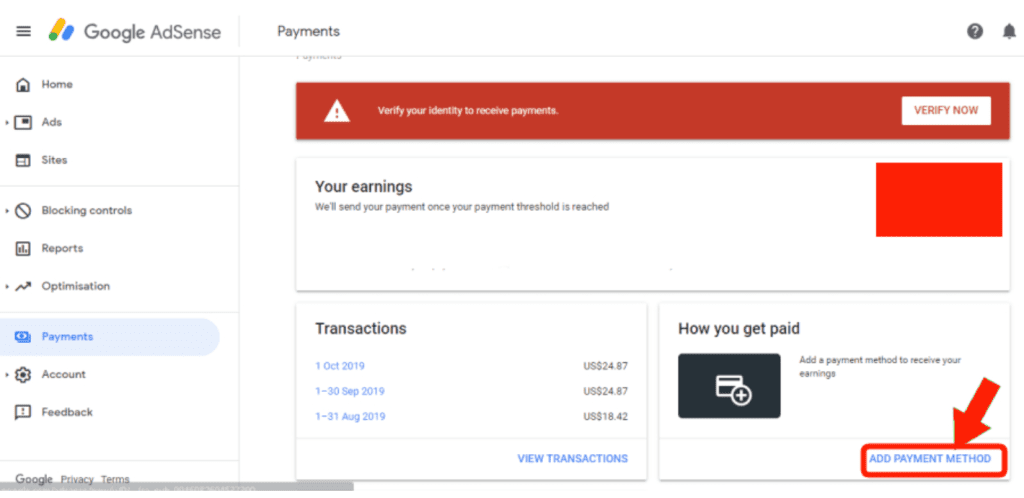 Electronic Funds Transfer (EFT)
EFT is a popular choice for many users. It allows your AdSense earnings to be directly deposited into your bank account. EFT is often faster and more convenient compared to other methods.
Checks
If EFT is not available in your country or you prefer a physical check, you can opt for this method. Keep in mind that checks may take longer to arrive and clear.
Wire Transfer
Suitable for international users, wire transfers can expedite payments to your bank account. However, they might involve higher fees and minimum payment thresholds.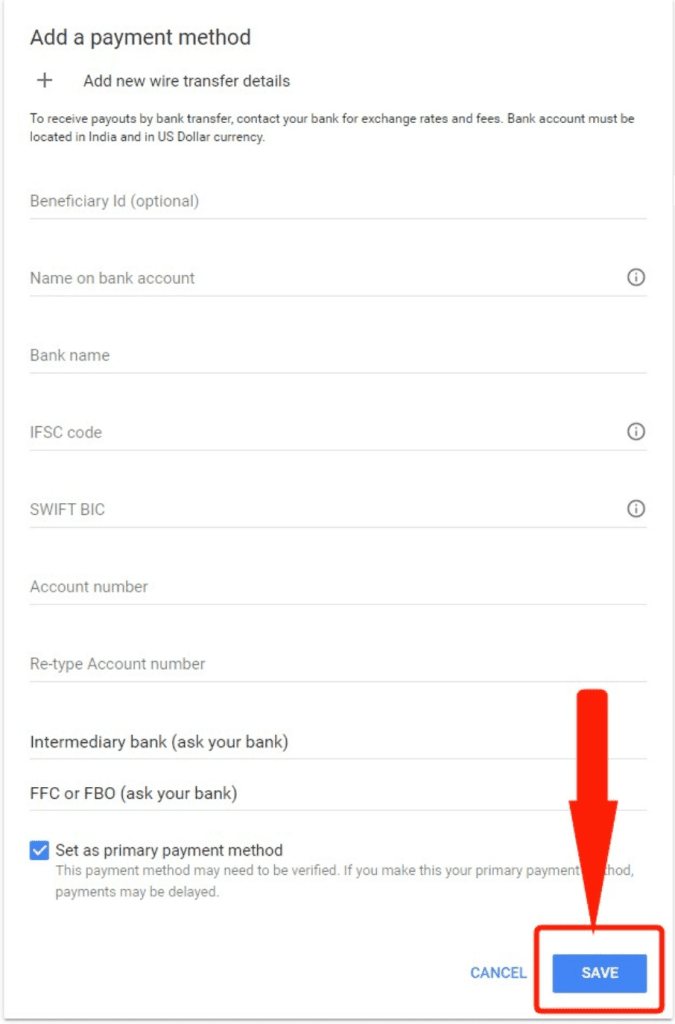 Meeting Payment Thresholds
Google AdSense has a payment threshold that you must reach before you can transfer your earnings. Different countries and regions have varying thresholds. To expedite your payments, consider these tips:
Optimize Your Content
Create high-quality, engaging content that attracts more visitors to your website. Quality content can lead to increased traffic and higher ad revenues.
Promote Your Website
Utilize social media, SEO strategies, and other online marketing techniques to drive traffic to your site. The more visitors you have, the faster you'll reach your payment threshold.
Experiment with Ad Placements
Test different ad formats and placements to find the most effective ones for your audience. Strategic ad placement can boost user engagement and ad clicks.
Receiving and Tracking Payments
Once you've reached the payment threshold, Google AdSense will start disbursing payments. Here's how to keep track of your payments:
Payment Schedule
AdSense has a payment schedule that specifies when payments are processed. Payments are usually made around the 21st of each month, but the timing can vary based on your chosen payment method.
Payment History
In your AdSense account, navigate to the "Payments" section to access your payment history. Here, you can view details of past payments, including dates and amounts.
Troubleshooting Payments
If you encounter any issues with payments, such as delays or discrepancies, refer to AdSense's support resources or contact their customer support for assistance.
Initiating a Payment Transfer
When you're ready to transfer your AdSense earnings to your bank account, follow these steps:
Access the Payments Section
Log in to your AdSense account and go to the "Payments" section as you did when setting up your payment information.
Initiate the Transfer
Select the option to initiate a payment transfer. This might be labeled as "Request Payment" or similar.
Confirm Details
Review your payment details, including the amount and payment method. Double-check your bank account information to ensure accuracy.
Complete the Transfer
Confirm the payment transfer. Depending on your payment method, it might take a few days for the funds to reflect in your bank account.
Ensuring Smooth Transactions
To ensure smooth and secure payment transfers, consider the following tips:
Double-Check Payment Details
Accuracy is crucial. Verify that your bank account information is correct before initiating any transfers.
Currency Conversion and Fees
If you're transferring funds in a different currency, be aware of potential conversion fees. Your bank might also charge incoming wire transfer fees, so inquire about these beforehand.
Security Measures
Protect your personal and financial information. Ensure you're accessing your AdSense account from a secure network and device.
Troubleshooting and FAQs
Here are some common questions and solutions related to How to Transfer Money from Google Adsense to Bank Account:
* Why hasn't my payment arrived?
Payments can take some time to process, especially if you're using checks or international wire transfers. Check the payment schedule and contact AdSense support if necessary.
* Can I change my payment method?
Yes, you can update your payment method in your AdSense account settings. However, be aware of any requirements or restrictions that might apply.
* What should I do if there's an issue with my payment?
If you encounter problems, refer to AdSense's help resources or contact their support for guidance.
* Are there minimum payment thresholds for different methods?
Yes, different payment methods might have varying minimum thresholds. Be sure to check AdSense's official documentation for the most up-to-date information.
Conclusion
Knowing How to Transfer Money from Google Adsense to Bank Account is a vital step in maximizing the benefits of your online endeavors.
By setting up your payment information, choosing the right payment method, meeting payment thresholds, and ensuring secure transactions, you can seamlessly manage your AdSense earnings.
Remember, while the process might seem complex at first, the rewards of monetizing your content make it well worth the effort.
If you are looking to learn digital marketing, DIDM's digital marketing course could be of big advantage to you.
To enroll in DIDM's digital marketing course, dial +91 8800505151 today.
Read More : Google AdSense Approval Requirements: Ultimate Website Owners' Guide