Digital marketing is made up of a lot of moving parts such as SEO, social media, PPC, and email marketing, and many more. The ever-changing Google and Facebook algorithms, new techniques, and technologies keep many digital marketing teams on their toes. So, it is also necessary for us to stay up-to-date on the upcoming trends so that our clients' campaigns can run effectively. (Mater the latest trends of Digital Marketing with Best Digital Marketing Course in Delhi)
As we have entered a new decade and technology continues to change at a fast pace, here are some of the digital marketing trends we need to have a look at in 2021!
Digital Marketing Trends for 2021
1. Voice Search for Digital Marketing Trends 2021
Most smartphone users use voice search like Siri, Hey Google, etc. Therefore, this year, the number of users of voice search will increase and 50% of all searches will only be voice searches which makes voice search to be one of the biggest digital marketing trends of 2021. Digital marketers can no longer avoid voice search.
The need has raised for digital marketers to optimize their site for voice searches. For this, the most effective way is to introduce long-tail keywords instead of shorter keywords. For example: "How to make marble cake?" instead of "marble cake."
2. Shoppable Posts
Social media is a huge part of digital marketing and the best digital marketing course in delhi and many people shop from social media platforms. Statistics say that 60% of Instagram users search for new products on Instagram. Likewise, other platforms like Facebook, Pinterest helps merchants to sell their products on these platforms. For the retailers, it is the best option to drive traffic to their product page.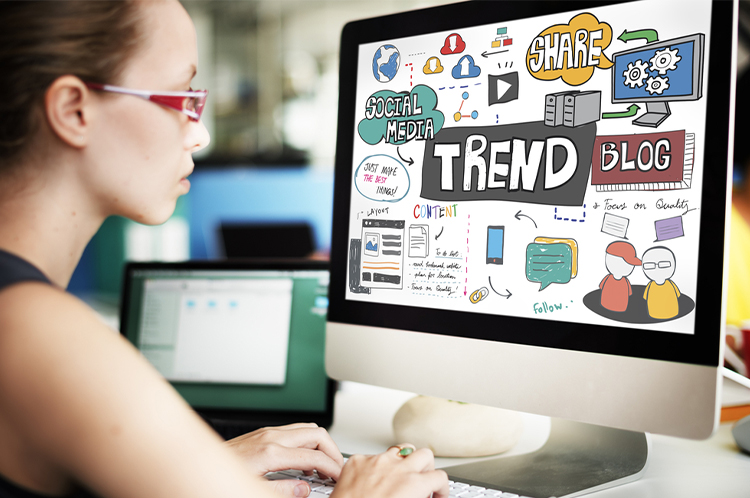 3. Interactive Content
In 2021, content marketing will shift its focus to give your users what they want. Shoppable posts, quizzes, and polls are just a few examples of interactive content. Interactive content is new and original which gives the users a reason to stay back on your page. The percentage of sharing the content also increasing which means that it will increase your brand awareness as well.
4. Social Messaging Apps
Social media apps like Facebook Messenger, WhatsApp, WeChat, etc are not used only for messaging friends anymore. These apps are now used for businesses to communicate with customers. It is so because the customers find it convenient to contact companies directly. These apps boost sales, provide customer support, and help in retaining customers.
Read More: How to Choose Right Digital Marketing Course in Delhi 
The Ongoing Digital Marketing Trends 2021
Like the color black and the aviator sunglasses, which do not go out of fashion, some digital marketing trends will continue to be popular in 2021 as well. Let us have a look at some of them:
1. Digital Marketing Trends 2021: Chatbots
Chatbots are becoming more sophisticated and capable of handling more complex requests than before because of artificial intelligence and machine learning. In 2021 also this technology will continue to be perfected and applied on websites. Due to this technology, customer service via the web is becoming faster and more efficient day by day.
2. Videos trending in digital marketing trends
Video was a must in digital marketing in 2020 and it will continue to be so in 2021. In comparison to adding videos to your social platforms and on your site, live videos on Facebook and Instagram are watched longer than the normal videos.
3. Influencer Marketing 
Influencers are those who have thousands of followers and can be said as 'internet celebrities.' Influencers will help you to reach your customers with the voice they trust. You can sponsor them as a brand advocate and get high ROI on your business. Brands that take the help of influencers to spread their message have a higher ROI than they get by using other digital marketing methods.
4. Content Marketing
The content was the king and will continue to be so!
Not only does content provide the necessary information to potential customers, but it's also what search engines put in their search results. It will not be wrong to say that content fuels the fire that is your SEO. So it's best to always create unique, creative, and engaging content for your customers.
Watch Video On How To Start Your Business With Digital Marketing