Digitization or Digital Marketing has transformed the travel industry dramatically in recent years. Gone are those days when travelers could visit the counter to make their booking. To plan a trip is just a click away; from booking the tickets and hotel accommodation.
Given below are the four most trending digital marketing tactics that will be taught in our digital marketing course about transforming the travel industry.
1. Create Mobile Responsive Websites
In today's fast-paced world, nobody would want a website that will not provide information on-the-go. From finding a cab to booking tickets, the internet has taken over our lives and it has become convenient for getting things done from our smartphones. This Digital Marketing trend of using the smartphone has led to an increase of mobile-first approach.
People find it easier to Google search for destinations on their mobile phones or at most on iPads. Therefore, companies should focus on making mobile-responsive websites. The recent page experience algorithm also says it all. If your travel company website is not well mobile optimized, you will lose out on a large chunk of your potential customers.
2. Social Media Marketing
Another Digital Marketing Trend, Social Media Marketing – a module which is included in our digital marketing course that includes how to use all the social platforms like Facebook, Instagram, Twitter, LinkedIn, etc effectively for marketing purpose. Gone are the days when Facebook was just considered as a networking site to keep in touch with family and friends. In the current scenario, it is a highly effective marketing platform to showcase your product or services.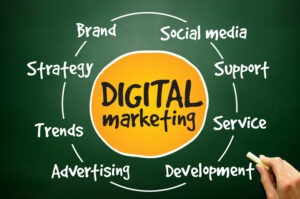 Travel companies that engage with online audiences on social media platforms, tend to create their brand image effectively. This leads to an increase in the number of brand followers, page likes, reviewers, and influencers which, in turn, results in higher ROI.
3. Content is King
Content is the backbone of all the digital marketing trends which can bring amazing results in generating leads, securing a top rank for your travel website through SEO in the SERP that will in turn helps your business grow further. Content plays a significant role in the form of articles, blogs, infographics, videos, etc. DIDM – digital marketing institute helps you to learn how to create content that your target audience will find engaging.
4. Influencer Marketing
Influencer marketing is a marketing or the next Digital Marketing trend, your brands through specialists whose opinions, reviews, and testimonials draw the attention of the customers. Travel influencers are specifically those who are avid travelers either to a particular resort or destinations like mountains, beaches, holy, spiritual places, etc.
You can take up our digital marketing course to learn how to become an influencer. Influencer's are hired to write for the company's brand. If you are only inclined towards promotions, you can explore a range of influencers to engage with your brand and post images with captions on your company's social media handles.
Though these are some of the digital trends a travel company can take up, there are a plethora of other strategies that can also be used for increasing ROI that you can learn by joining DIDM – the best digital marketing institute in Delhi-NCR.
Read More: What are the Trending Technologies that changed Digital Marketing concept!