Content Marketing is an important aspect of Advanced Digital Marketing Course, thus the blog is emphasizing on its features to highlight the method of Content Marketing. A content Marketer has to work out on the below mentioned points to develop its strategy.
Let's take a closer look at some of the core components of content marketing:
1. Planning
Before anything else, a solid content marketing plan must be put in place. It simply means developing a strategy that fits within the budget, aligns with your company's business model, and KPIs. Tactics like optimizing onsite content, creating corporate blog posts, email campaigns, managing social media, identifying advertising opportunities, and much more should be considered. Figure out the tactics that have the best chance towards achieving your goals
and move on to the next step in the process.
2. Researching
After the planning is done, it's time for you to do some research and analyze the competition across your industry to get a better understanding of your competitors strengths and weaknesses. Based on those results, you can see opportunities for success and determine the time and budget that will be needed to overcome the competition's efforts. You should also identify the potential customers for whom the content is being created. One way to ensure you are always creating content for your targeted audience is by developing buyer personas. Each time content is created, you must align it with one of your buyer personas so you know none of your efforts are going to waste.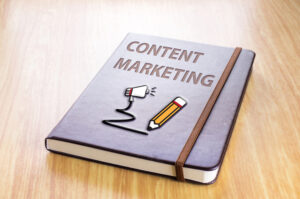 3. Creating
A great content marketing strategy includes editorial calendar and use platforms like Google Sheets to keep a track of draft and publish date, title, focused keywords, content type, URL, etc. Be sure to keep your targeted audience in mind and determine what type of reaction you want from them when they get to the end. Create content that is intended to drive traffic, social shares and completes your company's goal.
5. Sharing
While content marketers have a team of individuals who are solely responsible for the corporate social media strategy, they must work with them to ensure the content's potential is being maximized. Individual team members must also build up their social media profiles and share organizational content across the company to grow their following and creating brand awareness.
6. Reporting
Like others, it is essential to track the performance of content as well as like the number of views, clicks, shares, time spent on it, conversions, etc to identify what is working and what is not working. Certain tools to use for reporting are Google Analytics and SEMrush.
7. Refining
The life cycle of content marketing never stops. Just because we hit the button publish doesn't mean the strategy is completed. You must collect feedback and data to adjust the strategy, removing what hasn't worked for you change to those strategies. Also, you must do more of what has been working for you.
Conclusion
Next time you hear the question like what does a content marketer does, you can mention the above responsibilities as content marketing is more than just writing articles and blogs.
Read More: Importance of Creating Content for Marketing Campaigns