Digital Marketing is considered to boost its business online with low investment. Businesses are using this channel to grow online and reach out to the whole world. But when it comes to 'enhancing the business online, the term social media lands in our mind. Nobody can imagine the concept of Digital Marketing without Social Media. Since it is considered as the lifeline of the course.
 Role Of Social Media in Digital Marketing
Indeed, Social Media strengthens the relation between Business and its Target audience. It opens us various doors to woo the customers so as to increase the sales. It really promotes businesses online by enabling them to use its ad manager to design the campaigns which surely make your brand rule the market. Now let's learn how it has become the core heart of the Digital Marketing term.
1. Social Media helps you in personalization
What is the importance of personalization in order to increase sales? Well, nowadays it has become a fashion to interact with your customer personally via emails and messages. People are like to get their problem-solve with an instant reaction. The more you develop it, the more you'll grow. Social Media is the platform where brands are reaching their target audience personally. They are resolving the issue of responding to the maximum number of customers by enabling Chatbots and Artificial Intelligence.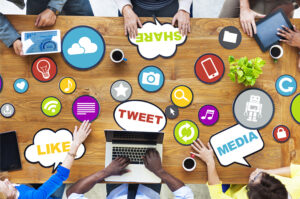 2. Driving Traffic to Its Targeted Destinations
Either Organic or Paid, social media marketing is playing a crucial role in driving traffic to its target destination sites. The brands use various ways to promote their accounts. Infographic, Short Videos, Memes, funny images, and quotes are widely used to increase the engagement on its social media accounts.
3. Building Trust
How brands build their spotless image among the customers? Either good or bad the customers share their both experience with the products they have used of their favorite brand. The brand having social media profiles are completely filled with the reviews of their buyers. Thus they can directly reply to these comments and solve complaints of their buyers. This builds trust among the current and upcoming buyers.
4. Improve SEO Rank
Strong social media presence also helps in improving SEO rank. The brands who're having high engagement on social media gets noticed by Google as well. Those who'll search the brand by its name on Google will likely to see the company's social media profile first. Thus, Brands are conscious of their social media presence because it impacts the SEO rank.
Also Read: LEARN HOW TO CREATE CONTENT CALENDAR FOR YOUR SOCIAL MEDIA PLATFORMS