Guru Purnima is a Hindu festival which is celebrated on a full moon day. According to the Hindu Lunar Calendar, Guru Purnima falls in the Ashadha month. This day people choose to worship their teachers, gurus, and mentors who have been providing them guidance during the childhood and their formative years. Guru Purnima resembles the day to thank your Gurus who have guided and carried you to the light of Knowledge.
Another name for this festival is Vyasa Purnima and is observed as the birth anniversary of Veda Vyasa. Disciples of Gautam Buddha also honor him on this day as it is believed that Lord Buddha delivered his first sermon on the day of Guru Purnima.
What is the significance of this Festival?
The combination of the word 'Gur' which means darkness and 'Ru' which is just the opposite of darkness make the word Guru. So, Guru is referred to someone who takes us from the darkness of ignorance to the enlighten of knowledge and awareness to us. The significance of the festival lies in the true meaning of this word Guru.
According to our Indian Culture, Guru is a person or mentor who drives out all the fear and ignorance of a personal life. The purpose of celebrating the festival of Guru Purnima is for abiding by the teachings of our Gurus and paying tribute to our teachers. This day is dedicated to Gurus and teachers who made our life valuable and worth living for.
If one's Guru is not alive, his picture or portrait is worshiped as per the rituals. Recital of Mantras is also done as per norms in the Guru's remembrance.
DIDM Wishes Everyone A Very Happy Guru Purnima
On the auspicious day of Guru Purnima, Delhi Institute of Digital Marketing wishes every person a very happy Guru Purnima.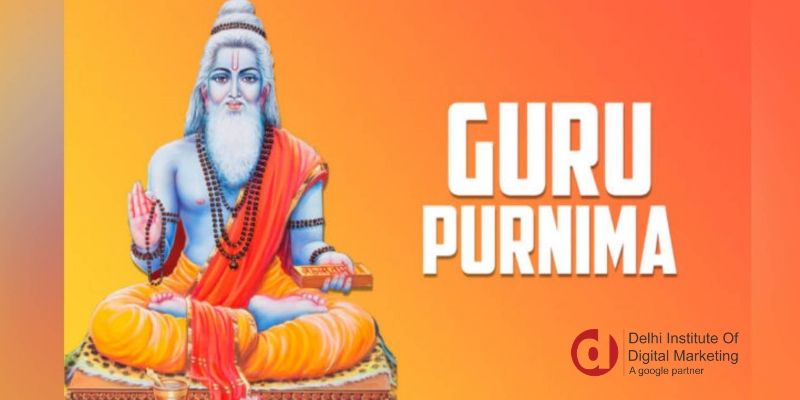 Gurur Brahma, Gurur Vishnu, Guru Devo Maheshwara
Guru Saakshaat Parabrahma, Tasmai Shri Gurave Namah