The current COVID 19 has disrupted the sanity of the masses, compelled them to make a halt. It has deeply affected the economy and economic engines. People who ran for several errands earlier don't have a thing to do now. Of course, it has rotten the situation. But if we take out some time to introspect, we can make changes due to Digital Marketing strategy with Best Digital Marketing Course in Gurgaon and bring a difference. Fortunately, there are still ways to grow using social media marketing.
Content In This Blog
Why Use Social Media Marketing
Influencers came up with Budget-Friendly and Effective Partners
The small effort and Big Outcome
Grow Your Accounts
Collaborate with influencers
Reason to implement Influencer + Social Marketing
More engagement in Digital Content
Digital Marketing does not require meeting up in real-time
High demand for Content
Decent Influencer Price
Influencers want to bring a difference
Why use Social Media Marketing?
There is a sharp rise in the demand for online content as the masses are still trying to make a way out to survive this Pandemic by investing time efficiently. There's a roar for online quality content because of this reason.
Influencers came up with Budget-Friendly and Effective Partners:
Influencers know how to be in the game and still perform well besides the calamity that had shut everything down. They realize the fact that the economy had sunk and people aren't left with enough money-generating ways. As they have a way with online marketing and know what would best suit both the parties' needs.
Not to defy the fact, it had equally affected even the influencers to a large extent, which compels them to accept and negotiate on deals that they wouldn't on a normal day.
The small effort and Big Outcome
There's a requirement for online marketing because of its cost-effectiveness, which yields excellent outcomes. The secret lies behind understanding the need for producing content that would interest most of the audiences online. Being witty and humorous would create higher chances of success.
Ways to Fuel Up Social Marketing During Covid19.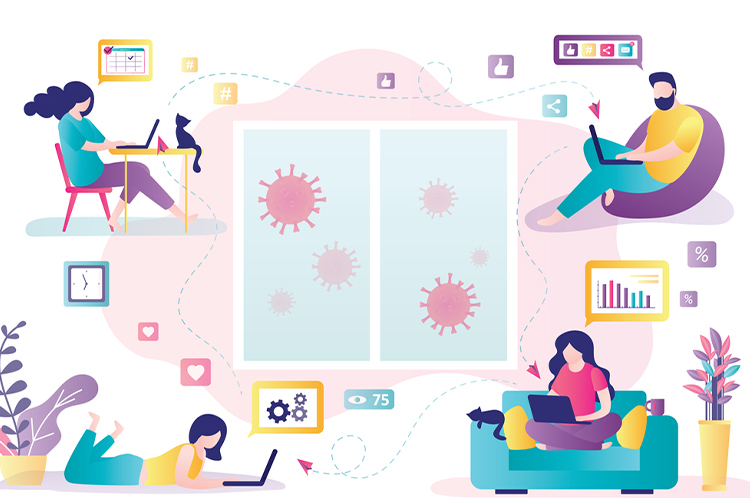 Grow Your Accounts
It's not the right time to expect profit or conversion as the money flow had shrunk and requirements reduced to a great extent. You can use this Pandemic to grow your account by increasing the number of quality content and followers.
Collaborate with influencers
Influencers or media personalities make an enormous impact on the buying decision of consumers, which is evident. This pandemic has compelled businesses to look for alternatives, as it has worsened the scenario by providing them with fewer options.
Reason to implement Influencer + Social Marketing
COVID 19 has disrupted the sanity of each individual. Trading companies bore huge losses because of the deteriorating situation. It surely provides ample space for Influencer+Social Media Marketing to take over.
Let give insights to it, how?
1- More engagement in Digital Content
The USA's inclination towards digital content increased during the past calamities and the same seems to happen now. A survey, it cited that streaming hit 61% in 2016 during the New York Snowstorm and 2017 during Hurricane Harvey.
Video streaming has ballooned by 12% during the first week of quarantine because of Corona Virus. Web traffic increased by 20% in one week after it declared quarantine because of the massive outbreak of coronavirus. Engagement towards gaming was most seen as video game usage has gone up by 75% in a week during the pandemic.
2- Digital Marketing does not require meeting up in real-time
Digital marketing with the help of the digital marketing institute in Gurgaon is based online, which does not require any interaction in person.
3-High demand for Content
The need of the hour is for the quality contents because of the high usage and engagement to reach a maximum number of people.
All the meet-ups or product shoots are canceled however influencers have the caliber to create quality content on your behalf and present it to their already build-up audience base.
4-Decent Influencer Price
Because of the outbreak, Influencers also realize the fact of going short on work. This made them come on common ground by partnering with brands at a much lesser price. (learn digital marketing course in Delhi NCR to survive covid 19)
5-Influencers want to bring a difference
Anything coming from influencers affects the audience base. You can use it to your favor by creating informative content in this pandemic such as.
How to stay healthy and focused? Or How to take precautions during COVID 19?
The situation will submerge and bring a better perspective on life. The world is paranoid as it has littered the situation and dragged everything down. The Mantra is to remain focused and productive.
Watch More:
Read More: Join Best Digital Marketing Course in Noida To Survive Covid 19 crisis!