How To Measure The ROI: Posting on social media platforms a few times a day and responding to them is good but it's nice to see the conversion because of the efforts you have put into it. Measuring ROI is not as easy as in PPC or a local search campaign. It's because of the vanity metrics which come with social media. (Learn Social Media Marketing and Measuring ROI with the Best Digital Marketing Course In Delhi)
Getting likes on your post is good but if your only goal is to drive traffic on your blog or to increase sales, getting likes will not do the needful. Likes, comments, and sharing your post might be a hindrance in uncovering the real ROI of your social media.
So, the question is how will you measure the ROI?
Measuring your Social Media Efforts As already mentioned above, the ROI may be muddled with the vanity metrics (likes, comments, and shares) but still, you can uncover the real conversions.
Some of the measurable goals are:
1. Increase your brand awareness
As your brand becomes well-known, the engagement of your post will increase naturally along with fan following. If everything increases gradually, then you are on the right track towards hitting your goal. But if things remain stagnant, then your posts are not reaching a larger audience which means that you have not gained ROI.
2. Attracting Website Traffic
For this you need to pick a specific website page like the homepage, category page, contact us page or a blog page and then measure the ROI. Counting the traffic of a website is easy and pushing the followers of your social media to your website will get reflected in Google analytics where you can easily measure the traffic.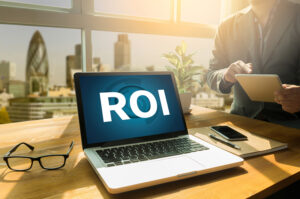 3. Generating New Leads
When a customer fills the contact us form, subscribe to an email newsletter, sign up for a webinar or download an e-book, you can say that your efforts are turned into leads. You can add links to your landing page to the social media posts and track how the forms are being filled by the customers.
Set A Timeline to Accomplish the Goal
The campaign should be observed for at least 30 days or even more. Direct product sales will take a bit longer time if you do not run ads. If you are running ads and you do not get the desired ROI then you need to analyze your metrics and better strategize it.
Developing A New Strategy Based on Your Goal
If you wish to increase 10% of your sales from social media, you need to have a completely different strategy. Your efforts must match the goal.
Given below are some of the strategy steps to accomplish your goals:
1. Increase Brand Awareness
You need to increase your posts on social media platforms. For example: if you currently post 3-4 posts in a week then you will have to double it to 6-8. You also need to follow 10 new people who are relevant to your industry. You also need to engage with those users who mention your brand. Running campaigns to increase
post reach is mandatory.
2. Increase Website traffic
For increasing the website traffic, you can start a remarketing campaign that targets the website visitors. Updating the bio-link on Instagram will also help you in increasing website traffic. You can also run a campaign where the users are directed to the target page for website traffic conversion.
3. Get New Leads
Running ads with goal conversions will ultimately generate new leads. Also, running a remarketing campaign by targeting website visitors on Facebook will be beneficial. You can also add a shortened link in all your posts to the landing page form. You should also follow new people who are relevant to your industry and engage with their
profiles. Tools like SEMrush will help you to identify who is talking about your brand. You can then reach out to them and start a conversation with them.
4. Generating Sales from Your Posting
Remarketing ads will encourage people to purchase your product. You can also schedule posts which include new product information and how to buy them. For attracting buyers, you can also give discounts or promo codes in your posts with a link to your website page. You can ask influencers to share content on your social
media channels which will increase your sales.
Tracking Metrics to Understand If Your Goals Were Met
Some goals are very easy to measure like gaining likes on posts and gaining new influencers etc while others are a bit difficult to measure. Certain metrics will help you determine those goals like you can check overall engagement metrics to your analytics to see if your reach has increased or not. You can also use certain tools to see if your brand name is mentioned positively and how much has it been increased. Checking Google Analytics will let you know the increase in website traffic. You can also have a look at the referral source to know whether it is from social media platforms or not. You can also check the ad campaigns of social media for ROI.
Always Keep Tracking Your Social Media Metrics
To check whether your goals are met with the desired timeline, you need to keep a check on the metrics. In social media, changes happen within a short period of time. So, you need to keep your eyes open and grab the opportunity as soon as it arises. You should always keep an eye on how people are talking about your brand. Whether it is positive or negative. Learn on what posts are been liked by your fans, may it be videos, images, or texts. The time and days when the engagement is more matters the most. So, always count on them.
Read More: 5 Ways Mobile Commerce Help Your Business To Achieve A Better ROI