Mobile shopping is mostly similar to e-commerce but is accessible via a mobile device. Mobile shopping is now possible through mobile-optimized websites, apps, and even social media platforms. Digital Marketing Course offer Mobile Marketing to let you understand about all the ingredients require in this subject. There are many advantages to mobile commerce. Let's start with some of the common benefits of mobile commerce while will also help in increasing the ROI of your business:
1. Better overall experience for customers
E-commerce already made shopping more convenient for individuals as they get access to a wider variety of products with competitive prices without having to
step out of the door.
With mobile commerce, they still have these benefits, but now they don't even need a computer to access through it. As long as your customers have a mobile device, they can buy whenever and where ever they want. The chatbots and messenger apps also make it easier for businesses to interact with their potential customers and providing the best service through it.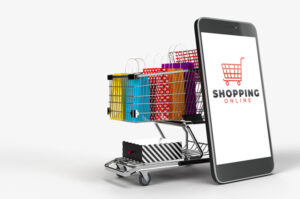 2. Phenomenal growth potential
As the percentage of mobile users is increasing day by day, the growth in mobile commerce is also continuing to grow rapidly providing online retailers 2X the traffic from mobile devices than earlier seen.
3. Omni-Channel selling experience
When stores sell both online and offline it is likely to sell through multiple online channels (For example through e-commerce platforms like Amazon, Flipkart, Etsy, or through social media platforms like Facebook, Instagram, and reselling apps like Meesho, Glowroad, Shop101, etc). Listing your products wherever your consumers are already spending their time is a good way to increase sales. It is known as contextual commerce.
Omni-channel is about being where your customers are already present and making it available for them to buy your products.
4. Location-based assistance
Businesses can use location-based technologies to assist customers who are using their mobile devices to buy products. It can be done by making your site optimized for local search.
5. Variety of payment options available
With new mobile payment solutions provided everywhere, it has now become possible to offer customers a truly diverse range of payment options to choose from. Mobile commerce has given the option of mobile wallets, which makes easier checkouts. For example Amazon Pay, Paypal one-touch, Visa checkout, GooglePay, PhonePe, and lot more.
All the above-mentioned points help businesses to achieve a better ROI through mobile commerce. You can learn in detail about mobile commerce and learn practical ways of how to increase the ROI of your business through mobile commerce by taking up a digital marketing course at DIDM.
Also Read: Learn How Content Marketing will be shifted in the times of disruption