Top five digital marketing skills: Digital Marketing is dawning as the highest booming sector which has surpassed traditional marketing over the years and now forecast to reach $146 billion by 2023. This data has raised the need for Digital Marketing professionals which is still a hard process to meet. Since the shortage of highly skilled digital marketers in the industry is still falling the concern over the issue has raised more awareness among the students about Digital Marketing Course. (Now the Digital Marketing Course updated to Masters In Digital Marketing Course. Check out the offers)
As per the data recorded from 2011 to 2016 the demand for digital marketing skyrockets has increased by 30% faster than the other job roles.
But if you see the current salaries of Digital Marketers, you will be surprised by the package they are being offered in the market. To taking care of this interest, we have introduced the top five digital marketing skills that are highly in demand.
1. Social Media Marketing
Digital Marketing is seemingly proving its niche in the area of professional's career growth and the sequence of its learning must consider Social Media Marketing as a key module. Those who're making its career in Digital Marketing should never underrate this match.
The reason will surely surprise you since the experts of this domain have observed over the time that there are 3.196 billion global social media users which increased by almost one million every day, the data recorded in 2018. Similarly, Facebook alone dominating 22% of the tool world population as its base users. Moreover, the power of social media can also be seen with You tube increasing the number of users every day.
Thus the aspirants of Digital Marketing should learn how to develop a social media strategy for good engagement via Social Media Marketing.
2. Google Analytics
Google Analytics comes next in the list of top five digital marketing skills to learn and the reasons are developing the ability to analyzing user's behavior, data collection, reading website traffic sources, and many more. Google Analytics is a free tool that helps its master by transforming data into a meaningful report so that one could understand it better.
Google Analytics is one of the most important tools of Digital Marketing because 90% of professional marketers are using it to measure campaign performance. The mentioned skill in Top 5 Digital Marketing Skills provides its learner the ability to make data-driven decisions.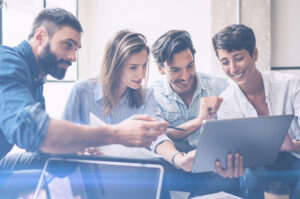 3. Web Development
Consider Web Development in Top 5 Digital Marketing Skills, that is not as tricky as before because the Digital Marketing has made it simple for those who are not likely to take the headache of learning Java, HTML, and other code languages for developing a website. Now it fits into everyone's hand.
However, the website you develop here without HTML is built on WordPress which involves buying a domain, hosting, and sometimes themes if you are really desperate to do something out of the box.
Meanwhile, the basic coding is always introduced to the people so that they can do competitive
research.
4. Search Engine Optimization/Search Engine Marketing
The top five digital marketing skills also have Search Engine Optimization and Search Engine Marketing, both play a crucial role in promoting and ranking your website on Search Engine Result Pages. Only a better SEO strategy can make your site visible to the users by ranking it on Google's initial pages.
As per the studies, companies invested $25,000 a year on SEO as they believe that the SEO provides the best return on this investment. 66% of the companies are making SEO its highest priority as compared to any other source of marketing.
5. Affiliate Marketing
Affiliate Marketing has become a healthy practice of earning a commission by referring products to others via blogs, videos, and other social media sharing. Those who work as an Affiliate has passed out through the 5 steps, first, he joins an affiliate program, second choose the product which he wants to promote, third receives the unique affiliate link, the fourth start sharing these links via blogs and social media posts, fifth collects the commission whenever someone makes a purchase out of it.
Read More: Why Online Digital Marketing Course is better than Traditional Classroom Courses