What is a good Click Through Rate (CTR)?  Click-Through Rate can be defined as a ratio that shows how often people who view the ad end up clicking it. Whenever a user engages them with the search engine, they often look for an answer to a question. They express themselves about their requirement, which makes the search important because it gives you an idea of what they are looking for. (Master the skills of Click Through Rate practically with the  Digital Marketing Course in Delhi)
Your prime goal is to create the correct paid search as an advertiser to fulfill the requirement.
The blog will share insights into different aspects of CTR
What is CTR?
If your PPC ad has 1000 impressions and one click, then the CTR is 0.1 percent. Through CTR you can know how appropriate your ads are for the audience.
For example: If your ad has high CTR, it means the audience is finding your ad valuable If it has low CTR, it means the audience is not finding your ad relevant. The motive behind running any PPC campaign is to attract users to visit your website and perform an action. CTR is the first step towards boosting ad relevancy and generating required actions. Another important part of it is to know how to calculate it.
You can calculate the click-through rate using the below formula.
Total number of clicks/ Total number of impressions= CTR
Let's say you are running a Pay Per Click Ad Campaign, in that case, your CTR or Click Through Rate will be visible on the PPC account dashboard. Also, if you are optimizing your site for search engine optimization, you can log into Google Search Console to check your CTR. (Master the skill of Click Through Rate with the best digital marketing institute in Delhi)
What is a Good CTR?
A good CTR depends on many factors such as
Keywords
Your Industry
Single campaigns with a PPC account
Why do CTR matters?
Through CTR you will know if people are responding to your ad headlines, tags, and title. It also offers information relating to your audience targeting, understanding search intent, and more other factors.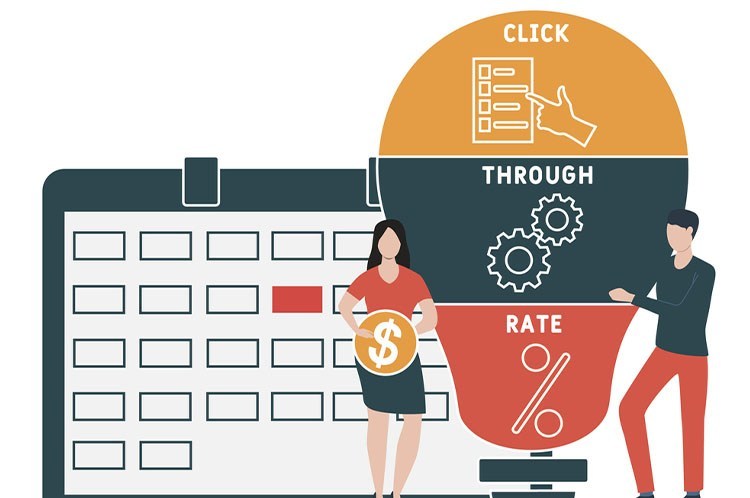 CTR impacts the performance of your online paid advertising and SEO
CTR also boost your score on various ad platforms such as Google Ads and Facebook
It is necessary to know about click-through rates as it will help you maintain your online marketing
metric. Checking it will help you fix problems and achieve good campaign results.
The benefits of increasing Conversion Rate
Increasing CTR will improve your conversion rate. If you double your CTR, then it also must increase the conversion rate by 50 percent. That's why digital marketers give more preference to it as it's regarded as the vital conversion metric.
Gain free click from Social Ads
Facebook and Twitter do not have quality scores. Facebook terms it "Relevance Score" whereas Twitter calls it "Quality Adjusted Bid". Having a high-quality score brings higher ad impression share for a similar budget at a low-cost per engagement. As the engagement rate gets higher, it will be more visible and cost-effective.
One advantage of having a high engagement on Twitter and Facebook is that you will receive benefits from free clicks. (Start earning money online with the best institute for digital marketing)
Ensure to use CTR
It is essential to know the importance of CTR as it is one such metric that has many benefits and helps you meet your goal.
Achieve good organic search ranking
Free clicks from social media ads
More ad impressions
CTR remains the important metric for PPC, to enjoy the benefits, you must start optimizing your click-through rate.
Read More: Digital Marketing Becoming One of the Hottest Career Options In India, Here's Why!