Social Media Marketing is the job of this digital century. You might be thinking, why? Some of you might be aware of the reason. The reason we are saying that social media marketing is the job of this digital century is better told by Payscale than us. You can just go to Payscale's website and type in "social media marketing." You will yourself get to know about the result. The reason that the job of a social media marketer has been termed as one of the best jobs of the century is because of the good amount of pay that it provides, even to fresher candidates.
In this blog post, we will inform you about how you can become a social media marketing manager in 2022.
Additionally, we will also give you information on who is a social media marketer, the biggest benefit of becoming a social media marketer or a social media marketing manager, the skills required for you to work as a social media marketer, and so on. Read the complete post to be informed about everything.
Learn how to become social media marketer from the Delhi institute of digital marketing
The Job Role in Social Media Marketing
What is Social Media Marketing?
when doing social media marketing, a person is responsible for maintaining a brand's social media account, handling its social media advertising, and promoting the brand's products and services on social media so that new people who could be future customers can join the social media community of that brand.
A social media marketing manager posts content on social media in the form of photos, videos, and other types that are relevant to the target audience, seeing how the followers' community could react, interact, and engage with the brand.
In some cases, people are confused between a digital marketing manager and a social media marketing manager, as sometimes they are unaware of the difference between both terms.
So, if you see a job post for a digital marketing manager, and it requires you to just be proficient in handling social media marketing channels, optimizing the social media account, and other things related to social media advertising and optimizing, you can choose to apply for that job.
The biggest benefit of doing social media marketing
What do you think we would state here in the section on "the biggest benefit of doing a social media marketer"? It is obvious. Where do you spend most of your time? You know the answer-it is scrolling through different social media channels. Some people are so sick and tired of this habit of theirs that they don't even want to do it in the first place.
So, they just uninstall all their social media applications or just deactivate their social media accounts and promise to never open them, but they end up re-installing their social media applications and scrolling through them again.
What if you started getting paid for using and scrolling through these social media accounts? We believe that just imagining this will give you chills, so working as a social media marketer will work wonders for you, especially if you are also one of those people who like using social media channels for hours.
And this is the biggest benefit of working as a social media marketing manager: you get paid for what you love to do in your spare time. No one would have thought some years back that such an interesting job would arrive in the next few years.
The abilities needed to work as a Social Media Marketing Manager
Here are two important skills that you require to work as a social media marketer for any brand or organization.
Creative Writing
When doing social media marketing, you should have a flair for creative content writing. You might be thinking, how could that be true? "Writing the content is a part of the content writer's job." Why would I need that skill as a social media marketer? "
It is because you, as a social media marketer, are responsible for everything that gets done on the social media accounts of the brand you work for. So, even if you are a social media marketer, you need to have a grasp of creative content writing as well.
Generally, social media advertising managers in organizations do write and edit a lot of stuff on an everyday basis because they need to post different types of content on different social media channels. because not every social media platform accepts the same type of post. Like Twitter, it only accepts a 280-character limit, which was previously 140.
And on LinkedIn, those posts get shared that have been written in a professional manner. No one knows this stuff better than a social media marketer.
So a few times, if not many, you need to write and edit your posts yourself so that they can have the maximum impact on the audience you have targeted, and that is why you need creative writing skills to succeed as a social media marketer.
expertise in the working patterns of nearly all the social media marketing platforms.
This is something we believe only comes with experience, but you can learn this aspect of social media marketing early on as well if you dedicate yourself to learning it from various sources like YouTube, blogs, articles, face-to-face with a person who has been working as a social media marketer for many years, and other sources.
If you understand the intricacies of social media advertising channels, you will undoubtedly be preferred over candidates who will be your competitors during an interview in an organization.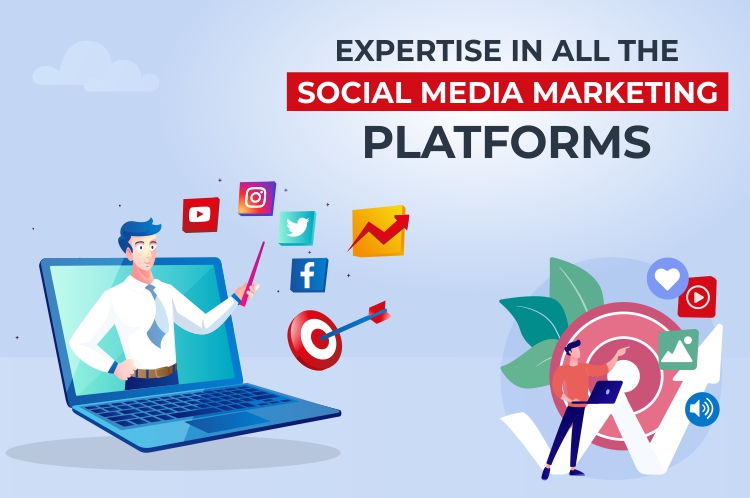 The two most important things that you will be required to know include:
a) You need to know the approximate timings of nearly every

social media marketing

platform like you need to ask yourself "Do I know at what time should I post to reap the maximum benefits of

social media marketing

?" or "Do I know on which days people engage the most with the brand?" If you can answer these questions or similar questions like these, then surely you have started to gain expertise in the domain of

social media advertising

.

b) You must be extremely knowledgeable about the types of content that should be written for specific social media platforms.
Follow this 3-step way to do social media marketing in 2022.
Learn the skills you need to be a social media marketer.
First and foremost, you need to learn the skills that you will require to work as a social media marketing manager. The best thing you could do to learn about social media marketing is to open your own social media account and start posting on it. In social media advertising, the more you do, the more you will learn.
But this thing could take you some time. You can also choose to join a digital marketing course that will teach you everything about social media advertising in detail, and then you can implement those learnings in your social media to grow it at a faster pace.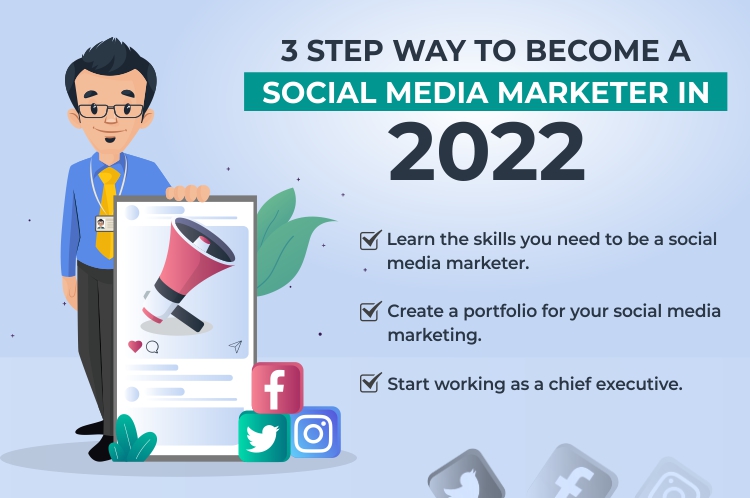 Create a portfolio for your social media marketing.
It does not matter whether you are aspiring to work as a dedicated employee or a freelancer, having a portfolio will work wonders for you. A successful portfolio will get you preferred at every place you go.
Additionally, it will boost your confidence for every job you apply to. Now the thing is that you don't get a job without experience, and you don't get experience until you get a job, so how will you get your portfolio ready?
For that, you need to ask friends and family members if they have any work for you, or you will have to sign up on online job portals like Upwork and Fiverr while putting your costs comparatively lower so that your chances of getting the work will be higher.
Start working as a chief executive
As a social media marketing manager, you should not treat yourself as less than a CEO. Because a CEO manages a lot of things on a daily basis, and so will you.
The good news here is that your life will not be as stressful as a CEO, as an average CEO manages all the departments of a firm, but you will need to manage only the social media part. But you will have to coordinate with your team members while keeping your client's expectations in mind, which requires effort.
You will have to start managing your time effectively as you will have to accomplish a lot of things in a shorter time frame.
You will also have to spend a lot of time doing nothing but thinking to come up with great ideas that could help your brand grow. So the earlier you start treating yourself as a chief executive, the better.
Conclusion
As we have mentioned earlier in our points, you will need to first learn the skills of a social media marketer, then you will have to develop your social media marketing portfolio, and then you will have to start working as a chief executive. We, the team of DIDM, take you through all the steps mentioned with ease in our digital marketing course.
For more knowledge visit: What are the Best YouTube SEO Tips to Rank 1?