Mohandas Karamchand Gandhi — a political ethicist was born on 2nd October 1869. Mahatma Gandhi influences several significant pioneers and political developments across the globe. Pioneers of the civil rights movement in The United States, including Martin Luther King Jr., James Bevel, and James Lawson drew from the writings of Gandhi in the advancement of their theories about non-violence. Former President of South Africa Nelson Mandela, Khan Abdul Ghaffar Khan, and Aung San Suu Kyi all were influenced by Mahatma Gandhi.
The impact of Bapu was also seen on a European writer 'Romain Rolland' who discussed Mahatma Gandhi in his 1924 book Mahatma Gandhi and 'Maria Lacerda de Moura' a Brazillian feminist too wrote about Mahatma Gandhi in her work on pacifism.
Barack Obama, the former US President spoke about Mahatma Gandhi in 2009 when he was asked about the one person (whether dead or alive) he could choose to dine with. He answered "MAHATMA GANDHI."
Gandhi was a brilliant student. He completed his schooling and college in Gujarat. He studied law from England and became a barrister.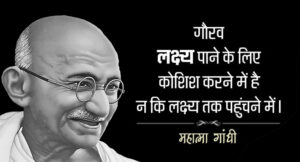 He returned to India and started the movement by asking the people of India for help to make India free from British Rule. He used non-violence and urged the people of our country to use Indian made products. He
led the way by using only Khadi clothes. The "Quit India" movement and the "Non-Cooperation" movement played an important role in getting freedom.
Gandhiji was shot dead by Nathuram Godse on January 30, 1948. In his last moment, he prayed for God's help.
Here are some of the precious thoughts of Mahatma Gandhi:
Gandhi said that to see the change in the world, bring the change in yourself.
He also said that you must not lose hope in humanity. You can compare humanity to an ocean. Even a few drops of the ocean become dirty the whole of the ocean is not affected by it.
Bapu also said to find yourself you need to lose yourself in others' services.
Bapu said that every person in this world is created by his thoughts i.e. what he thinks he becomes.
He described the nature and the creator of the world saying when he admires the beauty of nature, the moon, and the sunset, his soul begins to worship God – the creator of the world.
The father of nation, Gandhi explained how to win over others by saying first people do not pay attention to you, then they laugh at you and start fighting with you. Finally, you will win them.
Read More: INCREDIBLE JOURNEY OF PRIME MINISTER NARENDRA MODI