SEO Link building is considered to be one of the important factors in Digital Marketing considered in ranking and also Google confirmed it. According to Google links are the 1st ranking factor, alongside great content. Ranking without links is hard. Why would anyone try to rank in the SERP without links in the first place? Google cares about links more than anything, and so you should also take care of it.
Many SEO specialists only focus on great content and On-Page SEO but neglect link building saying that they already know everything about links. But is it really so?
The Google algorithms like Penguin update changed the way we use Backlinks in SEO forever. Before April 2012, one could easily buy links and manage ranking on the first SERP. Well, that time is long gone and with the Google Penguin Spam Filter being a part of Google's Core Algorithm you cannot do so.
Even today most individuals still look at the source page, the referring page, and call that the backlink. Therefore, it essential to learn the basics by taking up a digital marketing course.
Why is link building important?
It's because links are Google's 1st ranking factor.
links are also the point to great content
because Google confirmed that it would be unnatural to find a website without backlinks
because it's through links that Google discovers your newly built website and the list can go on forever…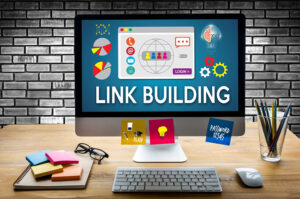 Simple Tips For Link Building
Although proper link building is not an easy task, there are still many white hat SEO techniques you can start today to rank your website in the top of SERP. Discussed below are some of them:
Ask for backlinks
This strategy works best to start if you are a beginner. Think about your friends, relatives, colleagues, that have a blog or a website. You can ask them a favor for a backlink.
But you should be careful and make sure that the backlink comes from a website that is relevant to your niche. Otherwise, it will not be effective for you.
Give a testimonial
Testimonial link building is always a win-win scenario. Many businesses give you the chance to say a few words about your experience using their products.
It is a great way for them to build customer trust. On the other hand, it is also a great opportunity for you to get a backlink from that site. It usually has a much higher approval rate than your link request through e-mails.
Start a blog
Never make a blog with one post and one backlink to your site. If you do so, you are not only wasting your time but probably creating a risk for yourself. If you want to have your blog, you must keep it alive by writing and posting blogs from time to time.
List your site in trustworthy directories
Many online free directory sites provide no real value to internet users and Google has excluded them from its search results. Don't put your website on such pages.
Remember, not all online directories are bad. A directory that not only gives you the chance to post a link to your website but also provides useful information for your audiences is a directory you want to be listed on.
Write a good guest post
Many websites allow you to publish your article. Before you write an article you must make sure of a few things like:
the website or article is relevant to your topic
the article should not be about how great your company is
you have a focus on quality like good content and it must be interesting
you must keep in mind that a poor article can bring a bad reputation to your company
It's important that you build links that help your website and not links that can negatively impact your website's ranking in the SERP.
Check out DIDM's digital marketing course to know more about how everything works and start building great links today!
Read More: Why Is Digital Marketing Becoming One of the Hottest Career Options In India?