Online Reputation Management is considered as a savior of your brand if there's any negative image that has been developed in your business. Several businesses are doing this practice alongside their marketing to clear out the air of negative reviews or any kind of activity damaging their brand. Also, Online Reputation Management is considered as one of the costliest services in Digital Marketing as it includes various tiny steps to recreate the brand value, which at the same point takes a long time. (Now learn Online Reputation Management with the best Digital Marketing Course in Delhi)
Thus, by following some easiest steps suggested here for Online Reputation Management, one can rescue its organization, rather than allowing it to turn into a big headache for the nearest future.
1. Register your personal name as a domain name!
Being concerned for the reputation and goodwill of its organization, the best way to securing its personal name as a domain name. The initial point in the brand reputation management is to register the personal name as a domain name. However, the chances are probably more than the billions of people are registering with the name you owned so if dot-com is not available then go for the dot-net or dot-org.
Why there's so much focus on the name? Because at last people will search for you via typing your name on search engines.
2. Launching a website and writing a blog!
The second step involves in brand management is updating content with the help of blogs and websites. After getting the personal name as a domain name, your second effort should be a focus on the content which represents you and your expertise before the world or people who're searching for you. Digital Marketing tools have made it easy for those who are not comfortable with technical languages. As the site creation becomes easy with WordPress. Next, one has to put some effort to make it rank on Google's first page. Don't forget to link your social media profiles with the website or blog you created.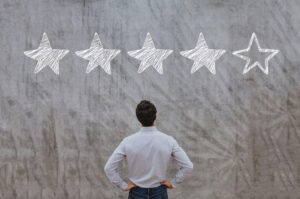 3. widen your social media presence
Whenever it comes to social media marketing, the businesses often think about the three largest platforms which are Facebook, Twitter, and Instagram. But when it comes to working upon reputation management one has to broaden its mind for social media and identifying the platforms using by its target audience.
Let us take an example of B2B businesses who preferably use LinkedIn to get the maximum benefit in reputation management. Here they develop good relations with the professionals or entrepreneurs and receive good remarks in the market. On the other hand, B2C is more likely to showcase its products on visual platforms like Pinterest and Instagram, because their target audience is more active in these places.
Meanwhile, businesses should never stop exploring the opportunities that arise through social media apps. The benefits of marketing with these apps is that the apps are not initially over-saturated with business accounts. Snapchat and Tik-Tok are one of the most suited examples of this practice.
4. Respond to online negative reviews and generate a good reply
One of the most effective ways to reduce the effect of negatives reviews and complaints is to improve your customer service by replying to them on the spot for solving their problems. According to the 2018 Local Consumer Review Survey, 86% of people read online reviews of the brand before purchasing its products and services. Now, this focuses on Businesses asking their customer to provide loyal reviews on Google My Business, Facebook, and Video's comments box which build the trust among the target audiences. On the other hand, resolving the complaints of the customers sometimes resulted in the modification of their negative reviews.
5. Avoid disputes and Online Arguments
In the various situations during Online Reputation Management, your competitors or unsatisfied customers trying to drag your brand's name in online arguments and disputes so that the brand's image got tarnished. The online reputations management suggests you to avoid indulging in such situations. It doesn't matter who's right or who's wrong but reacting or commenting on this criticism emotionally may lead your brand to the worst condition. The best possible way is to try shifting the conversation offline and stay professional. This may surely win the hearts of several customers.
Read More: Top 6 Best Digital Marketing and SEO Blogs in India