All the Digital Marketing strategies you have drawn for increasing the engagement on your site is failed if the visitors are not staying at your website or you are unaware of the 'How to make your visitors stick to your website?'Do you know how much time does an individual takes to decide whether to stay on your website or not? Some studies suggest that a visitor only takes 50 milliseconds to decide if they want to further scroll through your website or not. Yes, you read that right.
So, what do you think about your website? Is it good enough for your visitors to stay on it or it is likely to increase your bounce rate?
If not, then we are sharing the 5 usability principles to solve the issue: How to make your visitors stick to your website?
1. F-pattern Layout
The F-pattern is a simple layout that describes the user's eye-scanning patterns. According to this layout, users first read in the horizontal movement across the upper part of the content which forms the F's top bar. Next, they scroll down and read across in the second horizontal movement that forms the F's lower bar. Finally, they scan the content's left side in a vertical movement that forms the F's stem. Therefore, it is suggested to design the web pages of your website in this layout to grab your user's attention.
2. Visual Hierarchy
While you design the layout and visual appearance of your website, there are some basic principles that you should keep in mind like using images to draw attention to the important web page elements that illustrate key messages. You must also use the white space on web pages as it is equally important as visuals to guide the user's eye to go through the highlighted key information.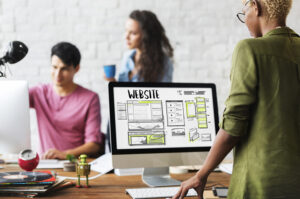 3. SEO-Friendly
You must always keep an eye on creating and designing an SEO friendly website which must include many things like lower loading time, unique content, attractive call-to-action, relevant keywords by maintaining the keyword density, optimized graphics, and much more. The importance of SEO friendly website cannot be ignored when it comes to organic revenue growth. It also improves your visibility in SERP.
4. User Experience: 
The first thing a user looks for after landing on your web page is the navigation menu. Having a clear navigation structure is one of the most important things you can do to provide a great user experience.
5. Responsiveness
With the increasing usage of smartphones nowadays you can see most of the web traffic coming from mobile devices. Hence, you must always look upon responsive web designing of your website to allow web pages to load and format correctly on all the devices. A responsive web design should include simple tabs and a one-click contact button in the header section.
Read More: Increase Website Traffic: Drive Visitors To Your Website With No Investment!