We often see people who gave plenty of advice about SEO Copywriting and strategies but there are very few people who use those content which is both SEO friendly and appeals to the target audience.
One of the primary goals about doing SEO is driving more traffic to your website hence driving more conversions whether you are doing those things for yourself or for your clients.
Therefore SEO copywriting which is also known as on-brand content is so important to get the right audience at the right time.
SEO Copywriting: Meaning which Branding add to it.
2018 can be easily regarded as the year of personal branding and it can be felt by seeing the trends which are going through the year. On a broader scale, the branding of the business is more important.
Increasing your conversions rate cannot be done by simply driving traffic to your website or by simply sharing lots of articles on social media.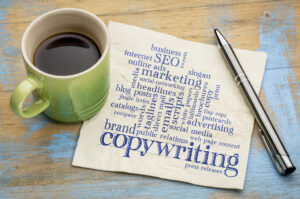 The most important thing in this regard is building a connection with your audience which would help in encouraging trusts and establishing you like your niche authority.
The difference between simple Google writing and SEO copywriting is that it involves much more than that and this can be seen when you are writing for your target audience too.
SEO copywriting is the proper balance between writing content which affects your target audience and writing according to SEO purposes.
Thus it can be known as writing, which is SEO friendly and also attracts audiences and helps in converting them.
There is no such thing related to keyword density when it is related to the writing of contents as while writing it doesn't cross our mind.
If your content is of high quality, accurate and informative content and also answers a question which your audience may have are already on the way of being SEO friendly.
You just need to research and confirm these terms which are SEO friendly and could provide you with less competition level as compared to another competition level.
The most important component of SEO copywriting is the brand message which you need to be provided in your writing.
Ways to find your Brand Message:
In starting a business the most important step in the establishment of a brand message though there are many business owners who skip this step.
There are some fundamental questions which you should ask in order to find the brand message of a business which is as follows:
The first thing which you will have to define to your readers is what service or product you have which makes you unique from the rest of others.
The other important thing which you will have to look out is defining the product value you are providing to your customers or clients.
The next thing which you will have to define in your article is finding out who is your ideal customer or client.
Finding out the number one goal about your website will particularly help you in driving conversions that are not supposed to be your main goal. So you would have to find the number one goal for your website.
You will have to define the problems which your service or products will solve for your clients or customers.
The next thing which you will have to make clear is picking out the style/tone which appeals best to your target audience.
Another important component that adds to the writing of great SEO content is continuous testing of different versions and styles of copywriting.
You could use the A/B testing for finding out which version of your posts performs better. These posts can be easily kept at variations from rest by making a few common changes which are:
Page Title
Post Title
Content length
Content design
Content structure
Homepage, landing pages, and even blog posts provide you with various opportunities which will help in relating to your target audience and conveying what your business is really about.
Read  Five Secrets about Digital Marketing Trends Only a Handful of People Know
Also, Read  Five Secrets you will not want to know about Content Marketing Tool