The world went silent for a moment on August 18, 2022, after Google Search Engine Central tweeted. Why?
Because that tweet was more powerful than any of the tweets made that day.
You see, as you are already aware of it, Google has announced its newest update that is going to be implemented from August 22, 2022, namely 'Helpful Content Update'.
From its name only, we can guess the meaning of this update.
But there is still a lot of information that needs to be consumed to become knowledgeable about Google's Helpful Content Update entirely and we have written this piece of content only to make sure you are wholly informed of this new update.
Our purpose with this post is to make you absorb the useful information of this New Google Helpful Content Update so that you can effectively implement these learnings in your SEO practices and in your content to rank higher on Google while simultaneously providing great value to your audience.
A Brief Information about Google's Helpful Content Update
So, want to know what this new Google helpful content update is?
Let us tell you.
As the world's leading search engine, Google has always focused on providing its audience with the best quality information possible.
In this case, a user typing a query on Google and going to any web page seeking the results should get complete information there without going to another web page for the same information.
Google always preferred those web pages that had the keywords properly inserted in their content.
Because keywords were the basis for Google to judge the quality of the article.
According to Google, the more keyword stuffing someone does, the more serious his writing is or the more unique his content is.
And a part of that was true earlier but later on Search Engine Optimizers and Marketing agencies in general, understood this and they started spamming Google by writing average to bad content and dedicating more time to keyword insertion and other non useful practices like backlink creation, internal linking, etc.
In response to this spammy practice, Google began working on a new algorithm that could filter out the best content from the average content and display this best content at the top of the search results.
This algorithm by Google is now known as 'Helpful Content'.
When is the Google Helpful Content Update coming out?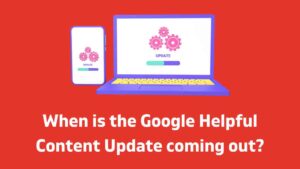 During the week that begins on August 22, 2022, the Google Helpful Content Update will be released.
If you are wondering when this new Google algorithm will start showing results by taking some web pages up and others down, then it will take around two to three weeks.
Read Also: Will Digital Marketing Ever Rule the World?
What is the reason Google is launching this Google Helpful Content Update?

Several users of Google have expressed their dissatisfaction with Google's ranking algorithms, which led Google to come up with this Google Helpful Content Update.
The reason for this is that digital marketing expert agencies and professionals play a manipulation game to rank their clients' websites at the top by tricking Google into believing their content is superior, even though their content is just average or even bad at times.
As we mentioned earlier, Google's primary objective is to give its users the highest level of value for their time by showing them and providing them with the best content possible.
Because of this, Google keeps on launching new updates so that its users can easily get the best information without having to do much work.
And now Google has launched the Helpful Content Update so that bloggers and website owners now will start writing super helpful content for their readers that is going to help them solve their problems and not just for Google to rank higher for getting search engine traffic.
How is Google's Helpful Content Update going to impact the businesses?
Till now, nearly all the businesses have been working keeping their focus on search engines in their minds.
They have been writing the content as per the structure that is going to be liked by Google, stuffing the keywords into paragraphs so that Google will understand what it is about, doing internal linking in between the articles so that google will crawl its other pages as well and judge its authority, and everything else has been happening keeping Google in mind with the purpose of just ranking higher.
Although we all know what is about to happen we still are unaware of how to execute practices according to this Google Helpful Content Update.
So, in the next few weeks, business owners and digital marketers will be wholly dedicated to learning about this new algorithm and execute it properly.
If your web page rankings will also go down because of Google helpful content update then you should remove all the content that you wrote solely to impress the search engine and re-edit the content with new sections dedicated to helping the reader.
Read Also: How to Become the Best Social Media Marketing Manager
Which industries are going to get impacted the most because of Google's Helpful Content Update?
With the passage of time, this new Google's Helpful Content Update will impact every industry out there.
Currently, Google says that in the initial period, the four industries most likely to be affected by this Google Helpful Content Update are:
a) Technology

b) Online Education

c) Online Shopping

d) Entertainment
How would you know whether you are working as per Google's Helpful Content Update?
When Google announced its Google Helpful Content Update, it also published a list of a few questions, if you answer them yes while creating your own content, then be sure that you are working as per the update.
And those questions are as follows.
a) Do you have an existing or intended audience for your business or site that would find the content useful if they came directly to you?
b) Does your content demonstrate first-hand expertise and a depth of knowledge (for example, expertise that comes from having actually used a product or service, or visiting a place)?
c) Does your site have a primary purpose or focus?
d) After reading your content, will someone leave feeling they've learned enough about a topic to help achieve their goal?
e) Will someone reading your content leave feeling like they've had a satisfying experience?
f) Are you keeping in mind our guidance for core updates and for product reviews?
If we decode the above to some extent then it means as follows:
a) You should have to write the content for your blog with a purpose, it would be good if your purpose is to let your reader receive the maximum amount of value from you in terms of knowledge.
You should not focus on just making a profit from your blog by just writing about something that people search a lot about or is currently in trend.
Instead, your focus should be to write on a subject of which you genuinely have a deep understanding and knowledge because that is only how you can generate unique content and 'truly' help your readers.
b) You should give complete information in your piece of content without leaving anything unfinished.
Your post should be comprehensive so the people reading it feel totally satisfied with what they learn and don't have to go elsewhere to find the same information.
Read Also: How Core Web Vitals Affect Google's Algorithms?
How to improve your existing content as per Google's helpful content update?
Google while informing the world about its new Google Helpful Content Update also published a few questions which while thinking about your next blog post or article, you need to see.
And if you answered even one of these questions as yes then it means that you are not working as per Google helpful content update.
a) Is the content primarily to attract people from search engines rather than made for humans?
b) Are you producing lots of content on different topics in hopes that some of it might perform well in search results?
c) Are you using extensive automation to produce content on many topics?
d) Are you mainly summarizing what others have to say without adding much value?
e) Are you writing about things simply because they seem to trend and not because you'd write about them otherwise for your existing audience?
f) Does your content leave readers feeling like they need to search again to get better information from other sources?
g) Are you writing to a particular word count because you've heard or read that Google has a preferred word count? (No, we don't).
h) Did you decide to enter some niche topic area without any real expertise, but instead mainly because you thought you'd get search traffic?
i) Does your content promise to answer a question that actually has no answer, such as suggesting there's a release date for a product, movie, or TV show when one isn't confirmed?
Read Also: Be Digital Marketing With Three Powerful Videos
In the wake of this Google update, what can we expect?
a) We can expect a lot of web pages going down that were earlier ranking on the top of search engine results due to the new Google Helpful Content Update.
b) Seeing unique and informative content ranking higher on the Search Engine Results Page is expected.
c) We can expect the writing part to be done by niche specialists and not by AI writing assistants.
d) Less emphasis on backlinks to rank the content that has been written by AI assistants or that is low in quality as after Google's helpful content update, the primary focus would be given by Google to those articles that are informative and high in quality.
Conclusion
To summarize Google Helpful Content Update, it is about giving more importance to those written pieces of content that have solely been written to provide some sort of value to the readers and not to those that got written with the aim to just rank in Google.
We as a team from the very start have been delivering valuable content to the target audiences of our clients also we used to optimize the content a little bit for search engines so that it also gets ranked on them.
The changes we are going to implement from now onwards for our clients are to emphasize more on the content part itself and less on making backlinks and other stuff for SEO purposes.
To join DIDM's digital marketing course, dial +91 8800505151 today.