Digital marketing is powering your digital digitals and taking your business ahead. Nothing in your head sticks more than a story. Stories define all the complications in the most understandable manner. Selling your product through social channels has now become the customer's prospects. (Digital Marketing provides a stable future with a number of earning options. Learn Digital Marketing Course in Noida)
Writing blogs that are informative, educative, and entertaining makes you get closer to your customers. Digital Marketing blogs are considered an essential element for digital marketers. (Digital Marketing provides a stable future with a number of earning options. Learn Digital Marketing Course in Noida)
We have put together the list of the best digital marketing blogs 2021  to help you stay updated about the latest digital trends:
The Moz Blog
 Hubspot
DIDM
Content Marketing Institute
Autopilot
Search Engine Land
Neil Patel
Social Media Examiner
Unbounce
Appcues
 SEMrush
 Buffer
 Backlinko Blog
Search Engine Watch
1. THE MOZ BLOG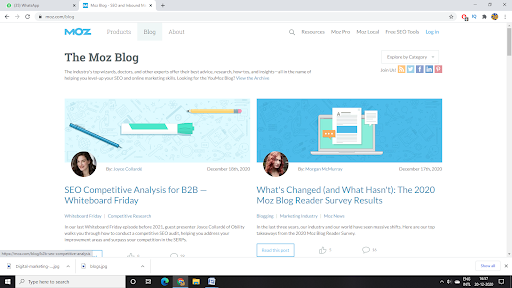 Moz Blog is majorly operated by Industry's top wizards, doctors, and other leading experts who offer their research and advice on how to level up your SEO skills and online marketing. Moz Blog covers all the topics which come under the category of SEO and Inbound Marketing. It is said to create some First best SEO tools.
It covers everything you should know to keep yourself updated in the most digestible way. Once a week it posts a "Whiteboard Friday" video as a part of recurring series. Moz Blog is undoubtedly considered the best to read as it carries information inaccurate amount of detail.
Founder: Rand Fishkin and Gilli Muessig
Best for Beginner's Guide to SEO
2- Hubspot
Hubspot has classified its blog into two categories: Marketing and sales – Both target two different audiences. Hubspot publishes 3 blogs every single day and also gives space to guest blog writers, who carry different perspectives. Hubspot is well known for its marketing automation company which invented the term Inbound Marketing. It makes create valuable content that is read by the digital marketers daily to gain the most cutting edge strategies.
Founder: Brian Halligan
Best For Inbound Marketing
3- DIDM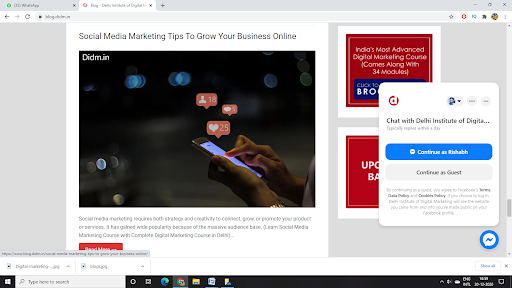 DIDM is the best digital Marketing Institute in Delhi that stands for Delhi Institute of Digital Marketing it publishes blogs frequently on every topic to promote learning and understanding of New Social Trends. DIDM's blog should be a go-to for any of the business owners or marketers that look to upgrade their business from time to time to make their marketing plan the most powerful one. Whether it is an analysis of your competitors or understanding Black hat techniques, DIDM provides full insights to make it understandable. DIDM is Asia's Leading #1 Digital Marketing Training Institute. 
DIDM: Leading #1 Digital Marketing Training Institute 
Best Digital Marketing Institute in Delhi NCR 
4- Content Marketing Institute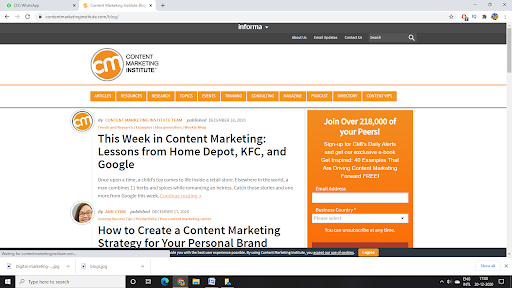 The Content Marketing Institute is considered the leading organization which conducts training on global content marketing education. It publishes a Blog that provides new and refreshed strategies for content marketers to attract and retain customers via multi-channel storytelling. One major objective of content marketing is to provide education to marketers which acts as helpful advice to them. Content is the ONLY thing that rules the digital world. & CMI provides strategies on them by their experts.
Founder: Joe Pulizzi
Best For Content Strategy, Storytelling
5- Autopilot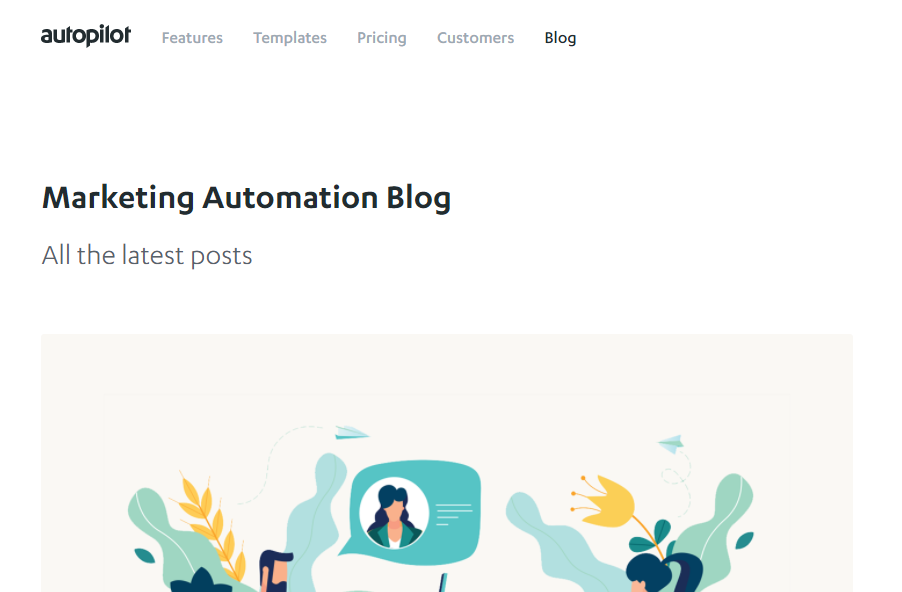 Autopilot publishes a blog on 6 leading topics of the digital industry. Marketing Automation, Email Marketing, Content Marketing, Lead Management, Product & Integrations & Growth Hacking are the topics autopilot guides on per week. Autopilot's blogs are well organized in writing their content to spread knowledge. (Learn Content Marketing with Best Digital Marketing Institute in Noida)
Best Post: Marketing Automation
6- Search Engine Land

Top Digital Marketing Blogs consider Search Engine Land serves all the aspects of digital marketing which covers advertising, promoting and beyond. Search Engine Land also features breaking stories, forecasts and all the trending topics surrounding the globe. The blogs published by search engine land offer their audience to take actionable insights to make their online marketing strategies.
Founder: Danny Sullivan
Best For Search Engine Marketing
7- Neil Patel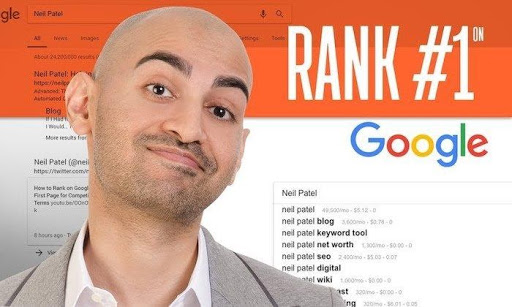 According to Forbes, Neil Patel is known as one of the top Marketers ranging in 1 to 10. He is considered the topmost marketing influencer on the web. KISS Metrics and Crazy Egg plus are the successfully built companies by Neil Patel. Neil Patel is well known for creating a marketing level that is unmatched by all Digital Marketers. (Learn how develop business online with digital marketing institute in Noida)
Founder: Neil Patel
Best For Tactical resources
8- Social Media Examiner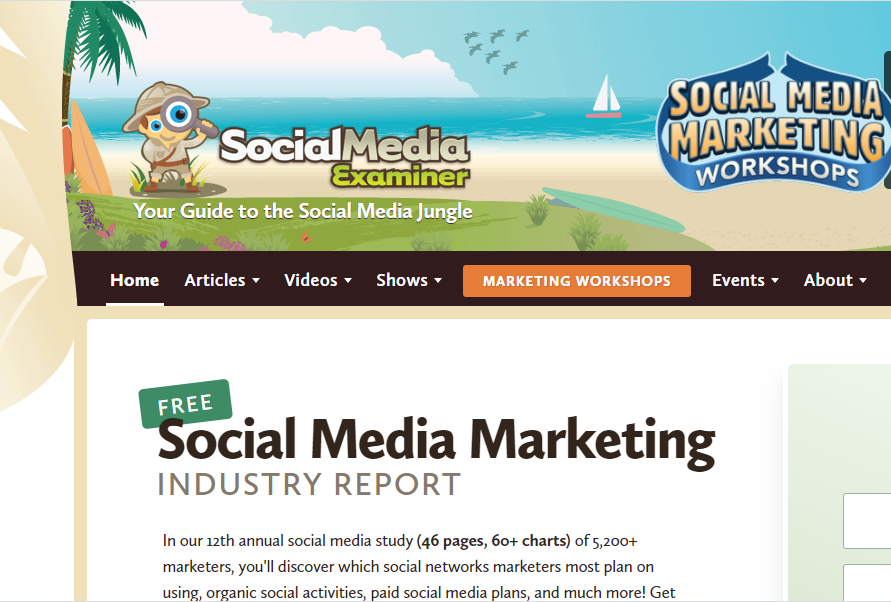 Social Media Examiner is considered as the world's largest resource for social media marketing to let brands connect better with customers and generate brand recognition. This blog will help you navigate the change in the social media landscape and it contains original content to make marketers reach the leading edge of social media. Their content mostly comprises expert interviews, original research, and comprehensive articles.
Founder: Michael Stelzner
Best For Industry research, Social Media.
9- Unbounce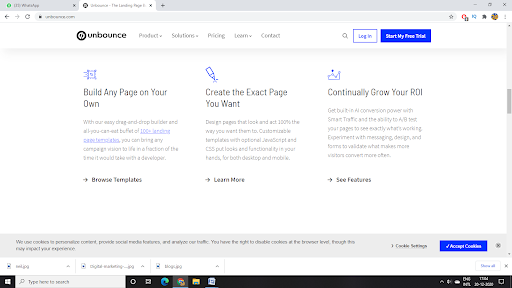 Unbounded is referred to as a drag-and-drop builder that helps you create and publish your own landing pages, without even requiring a developer to code'em. It is considered an easy and faster way to get more conversions from your traffic. For Marketers who are looking to get more traffic on site, Unbounce is the place you should go.
Founder: Rick Perreault
Best for: Copywriting Tips & A/B Strategies for landing page optimization
10- Appcues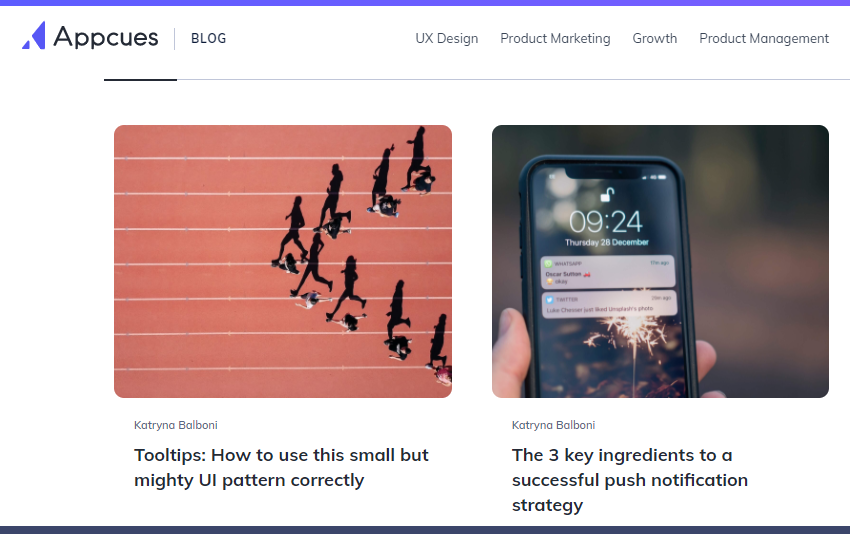 Appcues post its news blog 2 days a week. Their featured image is treating to an eye as the title is over layered on the top of the picture. By adopting this, when the reader reuses the same article, the image is also inserted along with the article. Appcues is a passionate, driven team that believes in transforming an industry.
11- SEMrush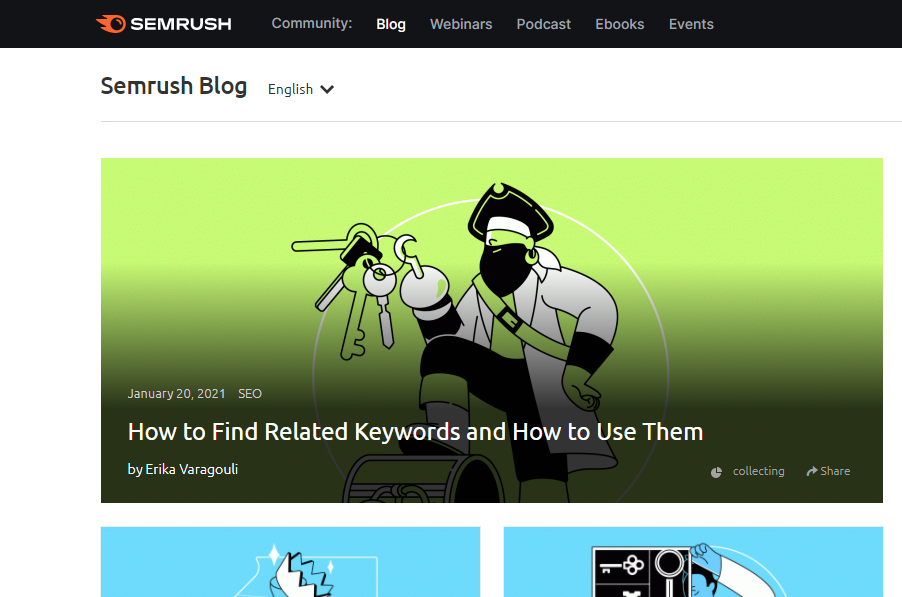 SEMrush was initiated by a small group of people specialists in SEO and IT back in 2008 to make online competition fair and transparent. SEMrush in its blog provide proper guidance on SEO, Content Marketing, Market Research, Advertising, and Social Media. It mentions techniques that help you grow organic traffic, unveiling your competitors' marketing strategy, and Build more effective social media strategies.
12- Buffer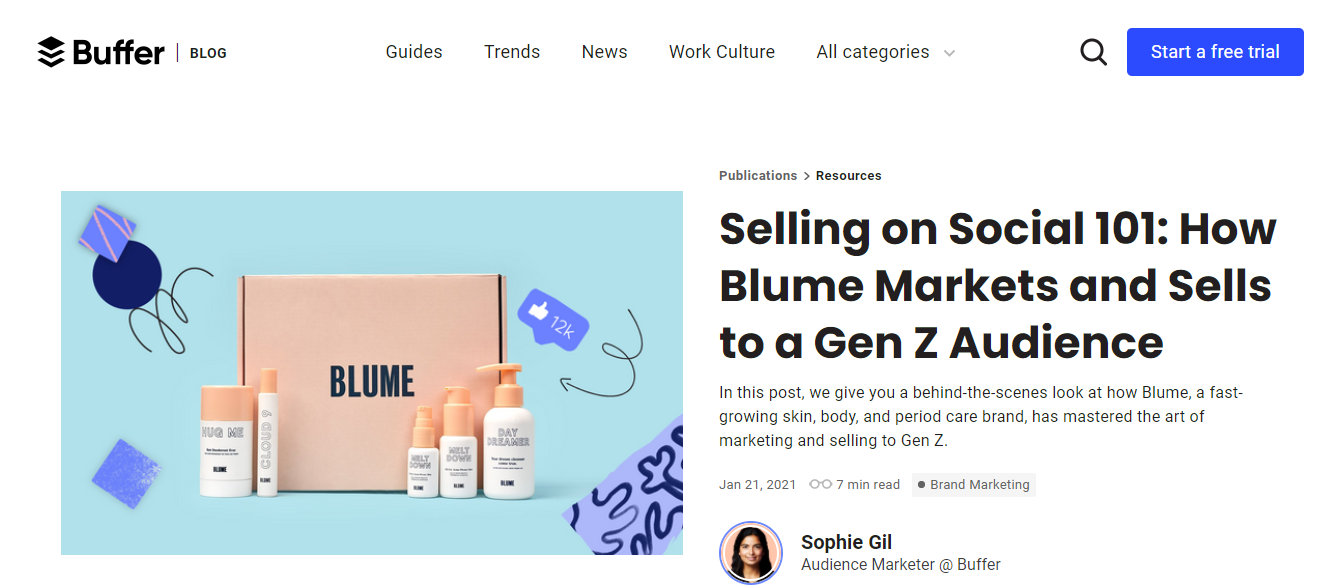 Buffer is considered to be an expert in social media publishing for Top Digital Marketing Blogs. Buffer's Blog comprises of big strong pictures that are easy to understand and share with your social networks. The writing style of their content is pretty simple and, while deeply analyzing the data. Buffer has made story sharing and building brand recognition on social media so much easier.
13- Backlinko Blog

If you want to rank higher and get more traffic, Backlinko is the site where you should land. Backlinko provides you a great SEO training and link-building strategies that are the major part of the best digital marketing blogs. Backlinko Blog's give more emphasis on SEO and Traffic. It acts as helpful advice to marketers in order to get more organic traffic. It claims to get you more subscribers and Double traffic in just 2 weeks. Backlinko is a place where digital Marketers go for proven SEO advice. Even Apple, Disney, IBM, Amazon are subscribers to Backlingo's Email Newsletter.
Founder: Brian Dean
Best For SEO tips & Strategies
14- Search Engine Watch

Search Engine Watch offers Learning and information for all the things related to the search engines. SEW includes analysis of the industry and provides insights to the site owners in order to improve site visibility. The comments section is often engaged with authors and readers as they discuss the topic of the article at-hand.
Why Choose Digital Marketing as a Career – DIDM 
CONCLUSION:
No matter if you own a small business firm or an established & well-built company, Blogging is an essential part of online marketing strategy. Blogging is an innovative source of advertising which contains information in the form of content through which visitors get to know about your company & your product and services. Blogs perform a handful of functions by transforming visitors of your sites to the customers of your company.
Blogs intend to connect you with your targeted audience and navigate them to your sites, which helps you in generating quality leads. Frequent Posting on your sites gives you the higher chance to get discovered and recognized by your targeted audience. Blogging is a powerful tool to increase your leads.
FAQ'S
Q1- Why Do I Need A Blog?
According to the 2017 Business Marketing Research survey, 83% of the marketers tend to increase their time and money spent on Content Marketing strategy, Because a blog is a machine, or I should say Marketing Machine which never goes to bed. With a good design and template of your content, you can get ideal readers converting into potential customers.
Companies that put stress on Blogging are more likely to enjoy Positive ROI than marketers who don't. Online Businesses are now getting competitive and innovative, as more and more businesses are marking their presence online to get engaged with their customers at all times of the day.
Q2- How Often Should I Post To My Blog?
The answer to this question lies in the hand of readers. They will tell you how often you should post. If you are providing them knowledge on your products, brand, or any special discounts once a week is better, poking them several times a week will create interruption.
Identify your customers and your strategies time to keep your customers and your business updated.
Q3- Why Blogging is important for a website?
Blogs strengthen your connection with the customer. By connecting them directly to your website, your customers get to know your business or its product & services from your own residence in your comfort. A well-organized blog can display your company and brand as an industry leader.
Q4- Why Blogging is an important part of Digital Marketing?
Blogs tend to increase your SEO. Fresh Content is a key to your success & also a way to beat your competitors on the Search Engine Page. Try to use keywords in your articles. Find and Mark out your Keywords, Topics you wish your business to you known with. Posting new content is the only way to leave your competitors behind on the Search Engine Page. You should regularly post about your business, a product that will naturally increase your reach.
Q5- Why Blogging is Important in Digital Marketing Strategy?
Blogging is considered an efficient part of a digital marketing strategy. Blogging navigates traffic to your websites; also create a new lead to your brand. Blogging nurture those generated lead and provides insight to your customer base. Blogging is pocket friendly and also increase your potential revenue.
Read More: Top 5 Digital Marketing blogs To Follow In 2020
;
watch More: